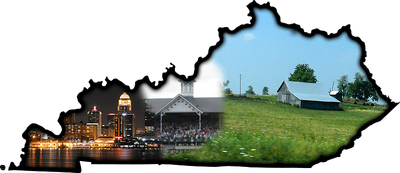 This Wiki was founded by Honest Abe. See the help page for help.
Welcome to Kentucky Wiki. Anyone, including Kentuckians, can add or edit pages here.
From The Kentucky Portal on Wikipedia: in 1792 Kentucky became the 15th state to join the Union. Kentucky is the 37th largest state in terms of total area, the 36th largest in land area, and ranks 26th in population.
Henderson county
[
]
Henderson County is a county located in the U.S. state of Kentucky. As of 2000, the population is 44,829. Its county seat is Henderson. The county is named for Colonel Richard Henderson, founder of the Transylvania Company.
Paducah2020
[
]
Paducah2020 is a grassroots effort to build community and social capital in and around Paducah, Kentucky.
Transition Kentucky
[
]
Link Transition Kentucky USA: A new group has formed at TransitionUS to develop Transition Kentucky - for those who seek a sustainable, local-scale implementation of theTransition Model. Learn more here.
Berea and Paducah2020 are pages here at the Kentucky Wikia for collaborating on Transition Initiatives. Kick off one for your town! announce it here.